Factory Pack Primers (FP)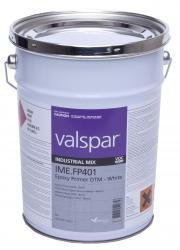 IMU.FP420.G01.00 Epoxy Primer/Sealer - Gray (90% fill)
A two pack polyamide cured epoxy primer/ sealer formulated for superior adhesion with maximum resistance to moisture, chemical and corrosive environments.
Mixing ratio: 10:1:0-10%
VOC: 4.8 (580)/ 3.5 (420)
Activators: IMU.AP420
National Rule Reducers: IMU.RS670/680/690
Exempt Reducers: IMU.RE670/680/690
IMU.FP423.G01.00 Epoxy Primer/Sealer - Anti Corrosion - Buff (95% fill)
A two pack modified amine cured epoxy primer/sealer formulated for extreme environments. Delivers excellent adhesion, water and chemical resistance combined with extreme corrosion protection.
Mixing ratio: 20:1:0-10%
VOC: 4.8 (580)/ 3.5 (420)
Activators: IMU.AP423
National Rule Reducers: IMU.RS670/680/690
Exempt Reducers: IMU.RE670/680/690